If you are like me, your feet take a lot of abuse.  We spend our days walking, standing, running, and wearing crazy shoes sometimes.  It is often easy to over look the importance of taking care of your feet.  According to Harvard University, a foot massage can "improve circulation, stimulate muscles, reduce tension, and often reduce pain."
So why not pamper yourself or someone you love with a soothing foot massage with this DIY scrub?  This also makes a fabulous, handmade gift.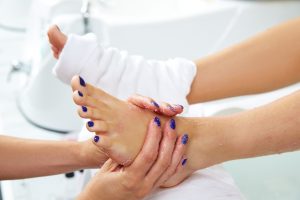 You will need:  Heat source such as stove or hotplate, metal pot, digital scale,  medium mixing bowl, stick blender (preferred) or wire whisk, a silicone spatula is also helpful, and a medium sized glass vessel for weighing/measuring. Best practices for manufacturing include wearing an apron, hairnet, gloves, and mask,  and maintaining a clean work space.
Directions:
To metal pot, add emulsifying wax, stearic acid, Cocoa Butter, and Shea Butter.  Melt over low heat on stove top or in double boiler until completed melted.
In a separate bowl, combine sweet almond oil, apricot kernal oil, and castor oil and blend.
Remove butters and wax mixture from heat when fully melted, and add menthol crystals. They will dissolve in the warm liquid. Stir to fully incorporate the menthol.
Pour liquid oils into wax mixture. Using a hand mixer, stick blender, or wire whisk, mix until thick.  Let mixture cool completely.
Begin to mix slowly while adding salt (or sugar). Continue until all salt or sugar has been incorporated.
Add preservative and Walnut Shell Powder. Mix for approximately 5 minutes until scrub is thick and fluffy.
Fill jars, and label product with ingredients.
Note: Be sure to thoroughly rinse/wipe product from your feet before standing to prevent slipping.